Networking
Choosing an intelligent network offers many advantages.
Unified communications
We offer services for video conferencing, telephone attendance and IP telephony.
Wireless communications
This technology can provide transfer rates comparable to wired networks.
Security solutions
We offer video surveillance, access control, anti-intrusion and fire detection systems.
Infokiosk
Infokiosk for managing the waiting queues leads to streamlining the processing of applications.
Sound and multimedia
Dedicated sound and multimedia solutions for amphitheatres, hotels, conference rooms, fitness centres, shopping malls, etc.
Software Development
We provide consultancy for implementing new IT business solutions: outsourcing.
Website Release
We create websites, online shops, complete e-business solutions, presentation websites.
Consultancy
We offer consultancy in drafting of tender specifications, in management, software support, recruitment of IT specialists.
Regardless of the field of activity, the IT solutions implemented by us will increase employee productivity and data security.
PARTNERS
In order to achieve a high quality of our services, we rely on a network of strong partners such as:
The main objectives pursued by us in our own quality management system are:
increasing customer satisfaction
increasing the efficiency of SC Nexia Consulting SRL
improving the professional training of employees
improving financial and economic performance
Our philosophy
is to provide our clients with complete solutions that include both the applicable part and the necessary equipment!
Advantages of our clients: Quality solutions
already tested by us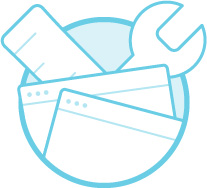 Reduced time
at implementing solutions
Careers
Our company is based on its human resources policy, the principle of having motivated employees with special qualities both in their field of activity and especially on the human and moral level.
The capacity to be autonomous
If you want to join our team, check our available jobs